"Meet the Spirit" – Wisdom Rooms for Wise Leadership.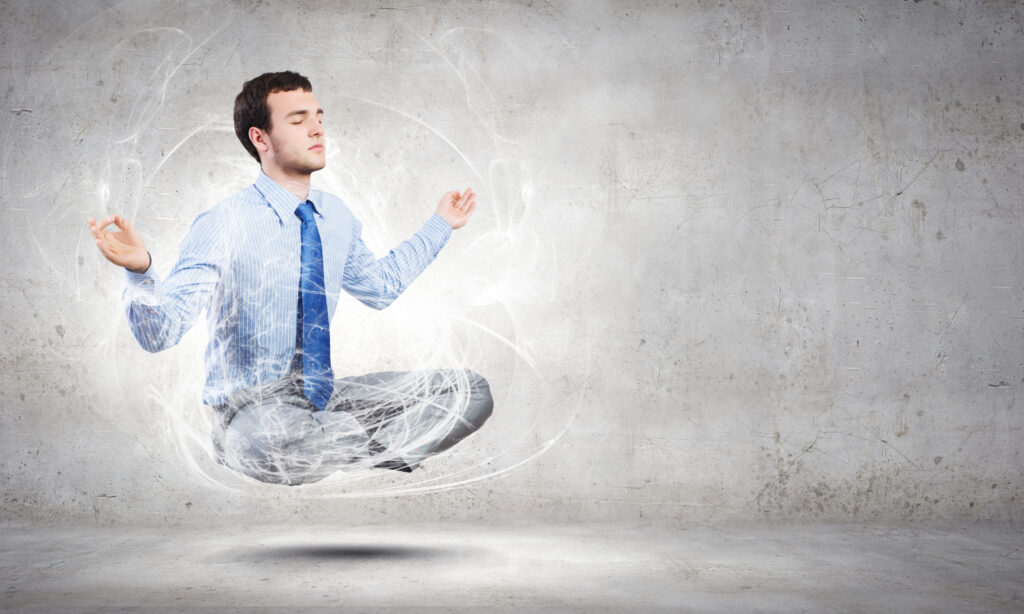 The Time is ripe for a Paradigm Shift in Corporate Business
The old paradigm has had its day – also in corporate business. We can all feel that. We can no longer simply carry on as before. For too long we have closed our eyes to the downsides of our leadership culture.
Noticeable in increasing employee turnover, mass layoffs and shortage of specialists, as well as in a lack of new talent. Noticeable in competitive thinking and power struggles.
Noticeable in health-related absences and general mood. Noticeable in situations in relevant project, work and leadership contexts that are at the limit due to different phenomena.
Now it's a matter of uncovering and solving the causes of these problems in your own company in order to be able to strategically realign and get back on the road to success.
The Challenge
We don't have to get out of the system (paradigm), but the system has to get out of us.
The paradigm within us keeps us trapped in the old system. And outside we can no longer find answers.
Strategy meetings are still conducted using ancient methods. It has to be done quickly and a lot of words are wasted.
It seems to be more against each other than with each other. This division creates a field of tension that makes it difficult, if not impossible, to achieve goals.
All of this causes immense stress and the pressure on us due to the high level of responsibility and the need to have an answer to everything is increasing.
There are no answers to essential questions for the future of the company. And important decisions are made from the maximum stressed everyday consciousness.
All of this costs energy unnecessarily and always leads to the same results.
"We cannot solve our problems with the same thinking we used when we created them."

Albert Einstein
The Solution
The leadership culture should become a breeding ground for a new "we", new creativity and innovative strength.
Such essential topics require leaving the level on which the problems arose in order to be able to face them from an expanded and deeper consciousness and thus on an equal footing.
What it takes is a different tempo and a different depth – slower, more essential. This creates a "wisdom room" that makes it possible to find profound answers to essential questions and to make sustainable, wise decisions for the benefit of all involved.
Completely different results can be achieved this way.
Methods from the spiritual realm are becoming increasingly important. They will soon be state of the art. And those companies will stand out from the competition that are up to date and get involved at this level.
We already carry all the wisdom we are looking for deep IN us. We just have to learn again to receive and use it from the deeper regions of our brain instead of trying to force something out of the mind.
The solution
"Meet the Spirit" – Wisdom Rooms for Wise Leadership.
I am an expert, coach and sparring partner for meeting culture of the new era.
I create wisdom rooms where access to new resources is made possible and thus new levels of essential depth and creativity can be entered. In this environment you will find access to your own intuition again.
This room enables you to make wise decisions and to answer questions that are essential for your company. In it you can meet the challenges of our time from a new level and thus at eye level.
My offer is aimed at executives and leadership teams in upper and middle management of corporate business and in challenging, relevant settings who are looking for strategic realignment, but in these times have realize that they cannot use their mental abilities to the fullest.
With my skills I achieve the following results:
New skills and a different awareness in answering fundamental questions and solving problems
Strengthening of instinct, perception and access to one's own intuition for making wise decisions from the spirit of the future
Unleashing hidden potentials of energy, creativity and innovation
Decision-making in the establishment of a new leadership culture
My specialties are:
Uncovering blind spots in leadership culture (recognizing and resolving the old paradigm)
Auditory supported visualization work
Support in the paradigm shift
Meditation
Breathing techniques for expanded perception and access to intuition
Sparring on in-depth questions
Deceleration and centering
I have a talent for recognizing blind spots in leadership culture and the need for improvement in companies. Through my intuition I can sense and see very quickly what the core issue is really about and am able to bring my resulting knowledge precisely to the point. My train of thought and questions throw the status quo out of balance and may thus provide access to completely new perspectives.
My Attitude
Leadership should occur according to new principles. Through people who look deeper – in a very respectful, appreciative manner and in coherence of heart and mind. By people who are aware of their responsibility that they are not only managers for a system but, above all, leaders for the well-being of people. Because only people who feel good and find meaning in what they do can really achieve performance and make wise decisions.
Be the Leaders who we wish we had.
In the spirit of "New Leadership for a New Era", I want to work together with corporations, executives and leadership teams. All those who want to contribute to a paradigm shift in terms of leadership. Together we create the space for new principles and values in leadership. For a new era in harmony with our very own human needs and longings, and full of trust in ourselves and in each other.
References
"What I found in my Wisdom Room about Monika's good leadership had an intensive effect in the days that followed. Monika gave me the security to let myself go in a conversation with a lot of trust. I felt very comfortable with her support in this process. Not least because of her very pleasant voice. Even via zoom – for many it is initially incomprehensible how this is supposed to work – I felt Monika's good energy."

Sabine Schneider, The Life Dream Saver and UP-Lift Success Consultant from Bensheim, 2022
"I actually felt an inner space opening up inside me, from which I spoke in a completely different way than I normally do. Monika has a gift for listening attentively and connecting deeply with her counterpart and empathizing. She has a very keen sense of the essentials, senses what moves me and asks exactly the questions that connect me even more deeply with my inner truth, which lives within me… I already have the solution within me."

Ingrid Hauser, The Unruhestands (Unrest / Pension) – Mentor from Pohlheim, 2022
PGlmcmFtZSBzcmM9Imh0dHBzOi8vd3d3LnlvdXR1YmUtbm9jb29raWUuY29tL2VtYmVkL0x1bkl4SmREa2RjP3JlbD0wIiB0aXRsZT0iWW91VHViZSB2aWRlbyBwbGF5ZXIiIGFsbG93PSJhY2NlbGVyb21ldGVyOyBhdXRvcGxheTsgY2xpcGJvYXJkLXdyaXRlOyBlbmNyeXB0ZWQtbWVkaWE7IGd5cm9zY29wZTsgcGljdHVyZS1pbi1waWN0dXJlIiBhbGxvd2Z1bGxzY3JlZW49IiIgd2lkdGg9IjU2MCIgaGVpZ2h0PSIzMTUiIGZyYW1lYm9yZGVyPSIwIj48L2lmcmFtZT4=
The video has English subtitles. Click "CC" at the bottom to activate.
Contact
I'm looking forward to our conversation. Please feel free to book an appointment via my online calendar.
Read more
You may also be interested in the following blog posts: