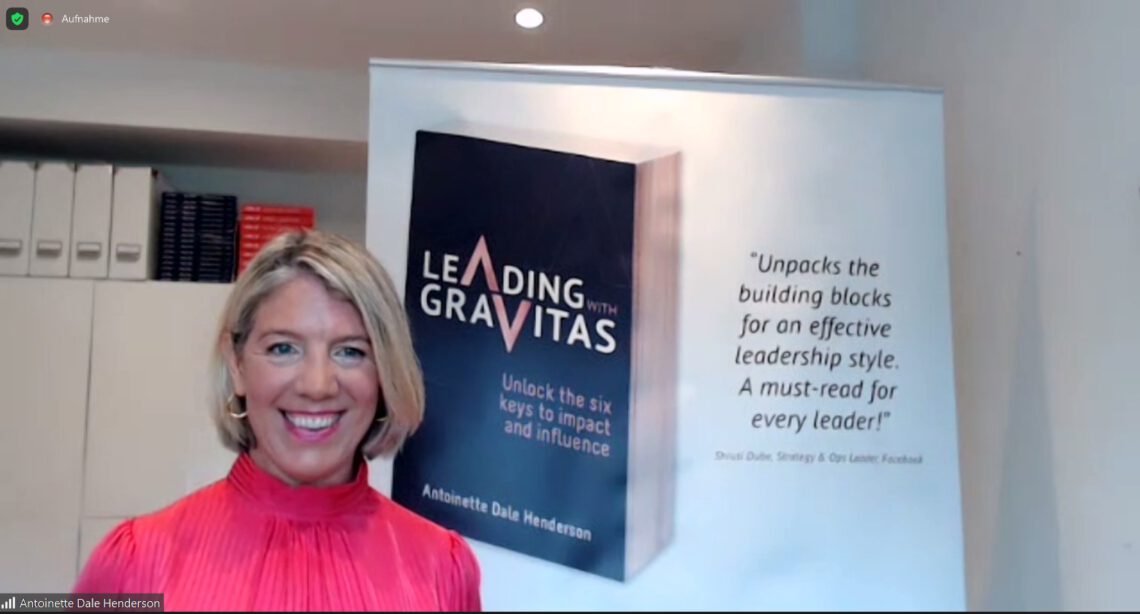 Leading with Gravitas can be a great tool in order to work with any doubts when it comes to your appearance in the business world and the management of how you want to come across.
Antoinette Dale Henderson is the author of "Leading with Gravitas".
Moreover, she is an executive coach and TEDx speaker with over 25 years' experience in leadership communications. She is also the author of the award-winning "Power Up: The Smart Woman's Guide to Unleashing Her Potential" and is frequently quoted in the media about leading through change and career confidence.
In case you want to find out more about what Gravitas means and how you can develop it, I can definitely recommend Antoinette's Gravitas Master Class which I have attended myself in 2016.
Antoinette has been a valuable mentor and coach to me since then. Just recently, I had the honor to attend the launch event for the second edition of her book "Leading with Gravitas".
One thing that particularly stuck in my head from the event was what she said about the imposter syndrome. It seems like – especially these days – so many of us are feeling like an imposter and are doubting ourselves. But try to look at it from a different perspective. If you feel like an imposter, could it not be that this inidicates that you are in the process of growing and moving outside of your comfort zone? If so, then no wonder this might feel like you're not in the right place or doing a bad job, don't you think?
Another thing you might want to consider as well, is that when you feel like an imposter, maybe the environment you're in is just not right for you. A plant might die in one place but flourish in another place. Still it's the same plant with the innate potential to grow beautifully.
If you are interested now in Gravitas, please do check it out!